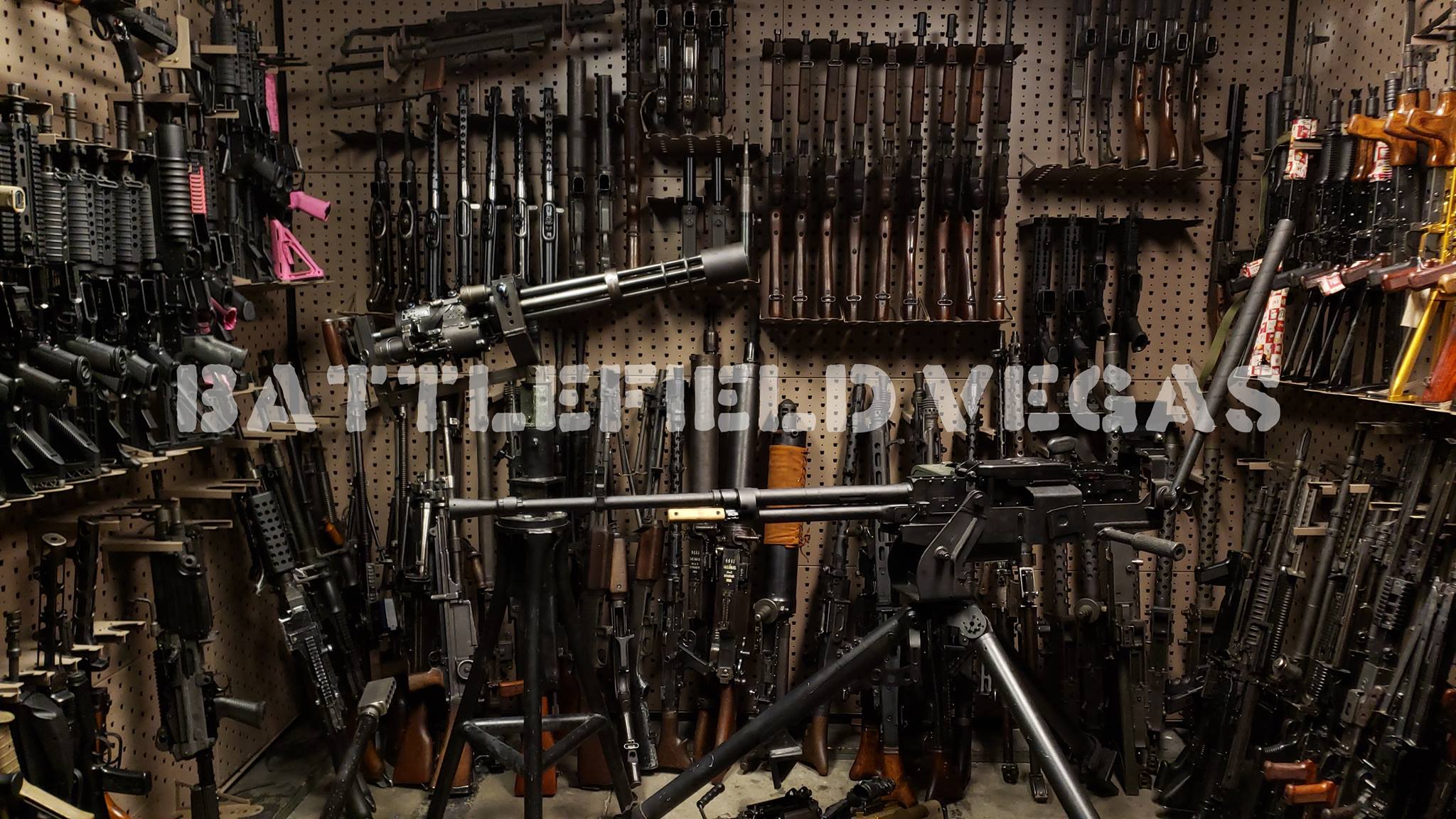 #1 Shooting Range in Las Vegas
Skip the casinos and go where the real action is – Battlefield Vegas! Find out for yourself why we've designated this shooting range in Las Vegas are #1 pick. Hint: it's not just because it has the largest collection of U.S. and foreign weapons available for public use in the United States!
Located just one block from the Las Vegas Strip, Battlefield Vegas is a 5-acre military styled complex with a indoor firing range, 120+ acre desert training base, and over 1,000 fully automatic machine guns (and the only M-134  "mini-guns" in Las Vegas) to use for indoor and outdoor fun. Drive a tank, shoot out of helicopter or just test your skills with a handgun, they've got it all.
As if that weren't enough action, they also have over 30 military tanks, APC's and helicopters that you can see for free at their military museum. You have to visit this place on your next Vegas vacation.
Now Offering Group Specials and 25% Off Outdoor Packages!
---
BATTLEFIELD VEGAS MINI-GUN
Firing a mini-gun at Battlefield Vegas is a once-in-a-lifetime experience you will NOT want to miss! This gun is still used by NATO troops as it is an effective weapon with a high rate of power that can be shot from an aircraft or vehicle. A Battlefield Vegas Range Safety Officer (RSO) will go over the proper positioning and handling this mega machine to ensure safety of use.

SHOOT THE MINI-GUN
Battlefield Vegas is the ONLY Las Vegas gun range that has a mini-gun (a.k.a. M-134) available for public use. If you've never seen one in action, take look at this video and then contact Battlefield Vegas to find out how you can shoot their mini-gun.  
---
VEGAS SHOOTING EXPERIENCES
Battlefield Vegas offers different levels of shooting experience for the novice through the highly skilled.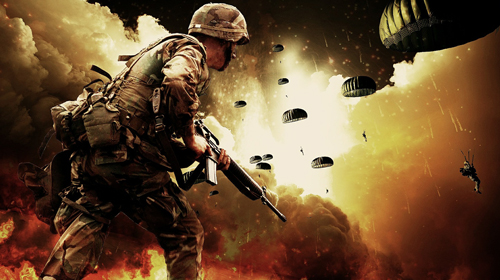 Historical Events
Battlefield Vegas will arm and transport you to historically significant war zones from years gone by to current day.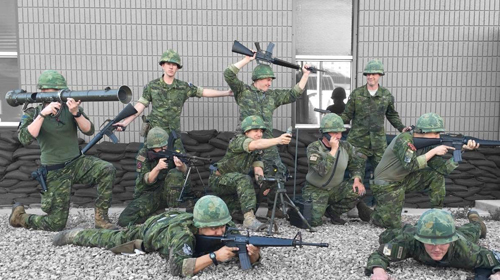 Fan Favorites
For those times you're not sure what you want to do, Battlefield has a few fan favorite shooting experiences to inspire or entertain you.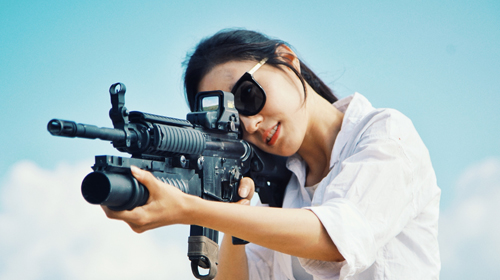 Just for Beginners
When you want to get the kids involved or have a night out with the girls, the Little Giants or GI Jane
experiences let you shoot pistols and full-auto machine guns in a fun and safe environment!
---
ULTIMATE OUTDOOR ADVENTURES
Las Vegas has so much more to offer than the 24/7 experiences found on the Strip. In fact, Battlefield Vegas offers several high-adrenaline outdoor adventures and one-of-a-kind shooting experiences for all skill and comfort levels.
---
EPIC PARTIES
Battlefield Vegas is THE place to have a memorable corporate event, fundraiser gala, or celebration any of life's major milestones.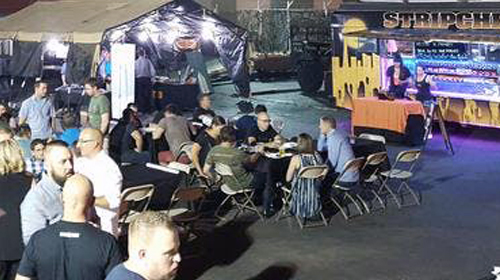 Corporate Events
Kick-off your next corporate event by letting your team blast away with full auto-machine guns in a safe and friendly environment. Then, enjoy some great music, food, drinks, and a view of the Vegas Skyline.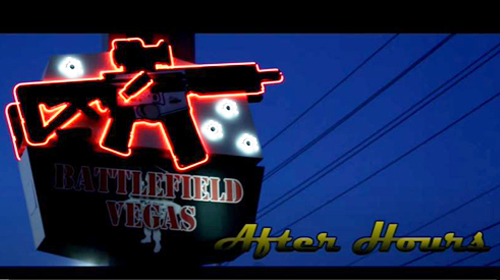 After-Hours Events
Get a
fter-hours access for birthday parties, bachelor/bachelorette parties, or any other special occasion starting at 7:30 p.m. to enjoy a private range and dedicated party staff, all in a unique environment.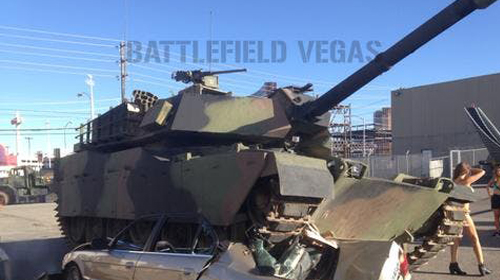 Tank Crush Partay
One driver and one rider can put 68 tons of metal to work crushing a real car with an Abrams Main Battle Tank. 24 hours advance notice is required for this ULTIMATE Las Vegas experience! 
---
OTHER AMENITIES
AS if all of the packages aren't enough, Battlefield Vegas offers the following additional amenities:
One acre event space
2,000 person capacity
Indoor a/c available
PA and music speakers
Pick-up and drop-off services for attendees
Military tents, seating, and bar services available
---
Battlefield Vegas Cancellation & Refund Policy
There is no cancellation fee if you cancel at least 7 day(s) in advance of your scheduled departure. Should something happen and you need a refund for your purchase online, there is a non-refundable 10% fee that will be taken out.
Additional Info
You will receive confirmation at time of booking.
Valid photo ID required (driver's license, passport, military ID, etc.).
There are no hidden fees. Weapons instruction, ammunition, eye/ear protection, range fees and a target are included with each package or a la carte package. Sales tax will be added at time of check-in.

All guests are required to wear closed toed shoes.

Not recommended for pregnant or nursing women.
Do not arrive intoxicated.

Privately owned weapons or ammunition are not allowed on their range.

Age restrictions apply; minimum age for shooters id 10 years of age.

Minimum height requirement is 52 inches.

Firearm selection is limited for shooters under the age of 14.

Minors under the age of 18 must be accompanied by a legal guardian.
You may not bring your own weapons or ammunition to the gun range. Closed toed shoes are suggested, but not required.
---
CONTACT BATTLEFIELD VEGAS
Look no further than Battlefield Vegas when you want the best shooting range experience in Southern Nevada. Contact this high-octane attraction to learn more about their current specials and to book your next Vegas adventure!
Battlefield Vegas
Open Sunday through Thursday from 9:30 a.m. to 6:00 p.m.
Open Friday and Saturday from 9:00 a.m. to 7:00 p.m.
2771 Sammy Davis Jr. Drive
Las Vegas, NV 89109
Telephone: (702) 566­-1000
E-mail: [email protected]
Web site: battlefieldvegas.com