For many coffee aficionados, pour-over is the preferred method of brewing. It allows people to experience the full complexity and brightness of coffee beans. Pour-over brewing is a more complex process than simply pressing start on a drip machine or even brewing with a French press; it's not something every coffeehouse can do well. Thankfully, there are many cafes that offer stellar pour-over coffee in Las Vegas.
To get superior pour-over coffee in Las Vegas, you need to visit a shop that uses:
Fresh water that's heated to the right temperature (usually between 195-205F)
Freshly-roasted beans that are ground just before brewing
Baristas that use the proper pour-over technique
There are many coffeehouses in the area that are fastidious about using the proper ingredients and technique, allowing you to enjoy a delectable cup of joe. Here are 10 of the best places for pour-over coffee in Las Vegas.
Sambalatte
While known for its kaleidoscopic "Rainbow Latte," Sambalatte also offers outstanding pour-over coffee. A local roaster supplies the company with fresh beans that are roasted weekly. It offers a number of excellent single-origin coffees from farms all over the world. The lineup changes depending on which beans are in season.

Sambalatte has four locations in the Las Vegas area. If you're tired of the banal blends from big chains then give these coffeehouses a visit.
Mothership Coffee Roasters
Mothership Coffee roasts beans onsite weekly, making for some of the freshest and most flavorful pour-over coffee in Las Vegas. It offers numerous single-origin coffees, including organic and fair-trade beans, from Africa, Asia, and Latin America. In addition to great coffee made by skilled baristas, the coffeehouse serves fresh pastries and exquisite confections from Happy Ending Chocolate.

With beans roasted on the premises, you don't have to worry about coffee that's stale or ruined during shipping. Give Mothership Coffee a visit for some of the freshest java in town.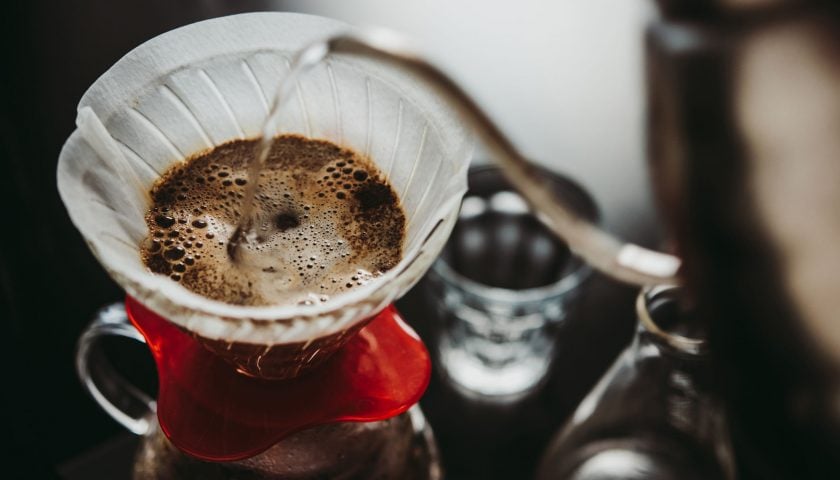 Sunrise Coffee
Mothership Coffee's sister shop, Sunrise Coffee offers the same outstanding beans in a larger eatery that has more dining options. Your superb pour-over coffee can be paired with various sandwiches, bowls, and desserts, including several vegan and gluten-free dishes.

The coffeehouse has a large outdoor patio that's partially covered, allowing patrons to enjoy some fresh air without the Vegas sun beating down on them. Sunrise Coffee is a fantastic place to enjoy some excellent pour-over coffee in Las Vegas, especially if you're also in the mood for some gluten-free goodies or vegan delights.
PublicUs
Co-founded by 2018 US Barista Championship winner Cole McBride, PublicUs has lofty standards for what it considers great coffee. For pour-over, the restaurant currently uses Kalita brewers and a wide variety of freshly-roasted beans. Considering that it's helmed by a world-class barista, you can expect expertly-made pour-over from PublicUs.

In addition to its brilliant coffee drinks, PublicUs offers other beverages, breakfast, sandwiches, bowls, and more, including several gluten-free and vegan dishes. Stop by the restaurant for some championship-caliber coffee and scrumptious food.
Bad Owl Coffee Roasters
Mages and muggles alike can enjoy some fine pour-over coffee in Las Vegas at Bad Owl Coffee Roasters. With decor inspired by the Harry Potter movies, the company's two locations are delightful (though the Henderson coffeehouse looks a bit more magical) and littered with glorious puns (Siriusly black coffee!). Bad Owl recently started roasting its own beans, for maximum freshness. Choices include single-origin roasts from Brazil, Columbia, Ethiopia, and Guatemala, as well as decaf and espresso blends.

Bad Owl Coffee has shops in Las Vegas and Henderson. Thankfully, a Marauder's Map isn't required to find either.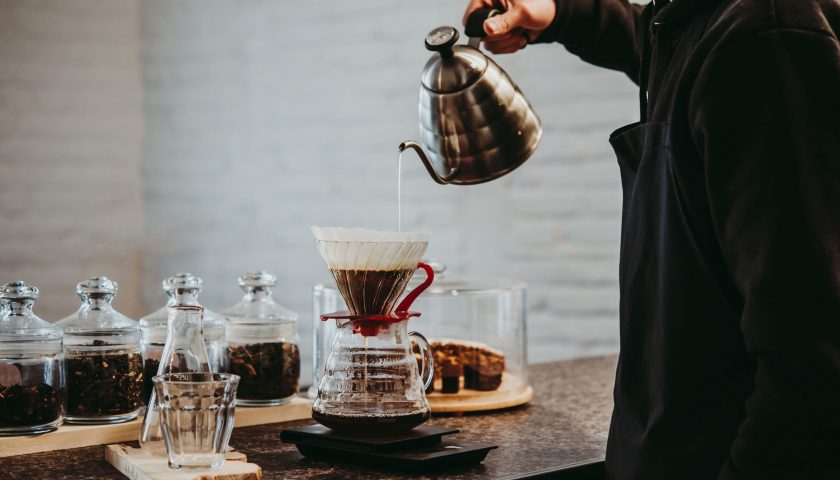 Vesta Coffee Roasters
Vesta Coffee Roasters is extremely discerning about the beans it roasts. It works with a number of coffee producers from all over the world to bring top-quality beans to Las Vegas. All of its offerings can be traced back to their original farms. Most importantly for you, the end result is some of the most incredible pour-over coffee you'll find in town.

In addition to its high-quality beans and top baristas, Vesta offers a variety of soups, salads, and sandwiches. Stopping by for a bite to eat is a good idea, but stopping by for some pour-over coffee is genius. The beans are that good.
Dark Moon Coffee Roasters
Family owned and operated, Dark Moon Coffee Roasters is a relatively new addition to the Las Vegas coffee scene. The company offers a variety of single-origin beans from Africa, Asia, and Latin America. In addition to its high-quality coffee, Dark Moon offers a number of teas, desserts, beers, and wines for you to enjoy.

Although Dark Moon is a relative newcomer, it has been getting high marks for the quality of its roasts and the skill of its baristas. If you're looking for great beverages of all kinds, it's definitely worth a visit.
Desert Wind Coffee Roasters
Striving for the ultimate in freshness, Desert Wind Coffee Roasters serves coffee hours after the beans have been roasted. The company "Hangout" has a charmingly funky vibe, with mismatched chairs and burlap coffee-bean sacks decorating the room. Most importantly, the company has sharp baristas that are ready to make you a top-notch pour-over.

Desert Wind Coffee Roasters has several single-origin roasts and a handful of blends for you to enjoy. For coffee lovers that prioritize freshness, this is a quality coffeehouse.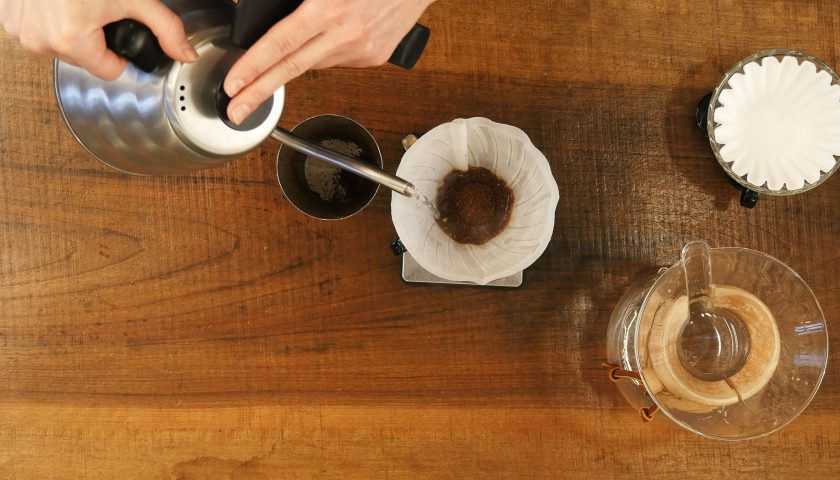 Avery's Coffee Shop
Avery's Coffee Shop aims to be more than a coffeehouse and roastery. It attempts to create an atmosphere described as "an eclectic mix of beans and best friends." In addition to a friendly and welcoming atmosphere, Avery's offers several single-origin varietals and two different pour-over brewing methods.

In addition to great coffee, Avery's offers a menu full of delicious breakfast, lunch, and dessert choices. Grabbing a snack at Avery's Coffee Shop is a good idea since it gives you time to ponder the coffee you want to drink and the pour-over method used to brew it.
Illumilatte Brew Society
Looking more West Village than West Las Vegas, Illumilatte Brew Society is one of the few independent coffeehouses in town with late hours. Open until midnight six days a week and 8:00 p.m. on Sundays, Illumilatte is a fantastic choice for night owls and insomniacs. Best of all, you don't have to be a member of a secret society in order to enjoy its pour-over coffee. The company offers a handful of single-origin pour-over choices daily, with the beans changing depending on what's in season.

Aside from marvelous pour-over coffee, Illumilatte has a broad selection of drinks, desserts, and sandwiches. People are particularly high on its extensive macaroon selection. Rumor has it that ordering the right combination of macaroons grants you one favor from a powerful Nevada government official.
More Pour-Over Coffee in Las Vegas
Those are 10 of the best places for pour-over coffee in Las Vegas If you're looking for coffeehouses to visit or perhaps some decaffeinated activities then check out our website for all kinds of ideas.