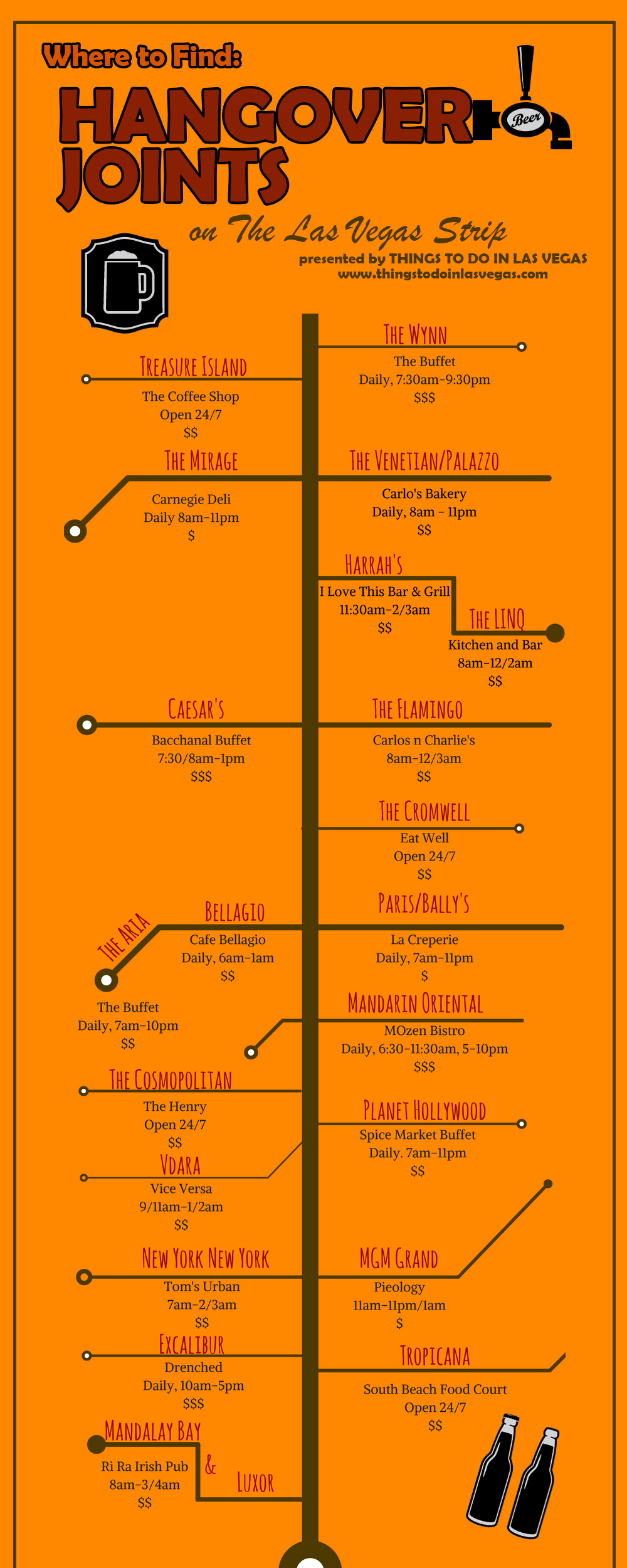 There's no party like a Vegas party, and there's no hangover like a Vegas hangover.  If you're looking for relief, check out these cafes, restaurants, and bars on the Las Vegas Strip.  Sorted by hotel, we've got you covered no matter where you're staying, what you're looking for, so you can choose the right cure for you.  Or just whatever's closest.
Cure that hangover at these fantastic joints!
Mandalay Bay / Luxor – Ri Ra Irish Pub
First of all, unless you want to spend $30 on some snack bars and nuts, The Luxor doesn't have great hangover delivery options  Instead, drag your sorry self downstairs to Ri Ra Irish Pub.  There you'll find everything from a Continental breakfast to cinnamon-battered brioche (weekend brunch) to sausage and egg boxty, a potato pancake wrapped scrambled eggs, irish sausage, peppers, cheddar cheese, with hollandaise, grilled tomato, and potatoes.  Ri Ra has perfect access for those staying at Mandalay Bay or Luxor.
Excalibur – Drenched or Castle Coffee
If you're feeling up to an actual sit down breakfast (brunch… lunch… dinner… we understand), Drenched at Excalibur is a great option.  With poolside views and a casual ambiance, you're sure to get refueled in no time. Try the "Sunrise Corndog" – breakfast sausage dipped in blueberry pancake batter – or for something lighter, the spinach and red pepper quiche. On the other hand, if you're nothing more than a coffee-zombie, we recommend Castle Coffee.  Grab a cup and a breakfast sandwich and hobble back to your room where you can enjoy your hangover food in peace.
Tropicana – South Beach Food Court
The South Beach Food Court at Tropicana is open 24/7, so no matter what time that hangover shows its ugly head, you'll be ready.  Get a basket of wings, hot dogs, or jackpot fries.  You can even get a pizza (starting at 11am), or a half pound of french fries for just $5. They also have hot and cold sandwiches, if you're feeling less adventurous.
New York, New York – Tom's Urban
If you've got a killer headache, Tom's Urban in New York, New York is there for you with The Hangover Slopper.  It's a 100% Angus beef burger on a butter-toasted brioche bun, with pork green chili, queso fresco, pico de gallo, cheese, and 2 fried eggs.  It also comes with garlic fries.  This monstrosity has enough 'dinner for breakfast' power to cure you of all your ailments.  They also offer burgers, tacos, small plates, entrees, pizza, milkshakes, and other desserts.
MGM – Pieology
If your hangry hangover stomach demands something cheesy, you want Pieology at MGM.  You can build your own pie according to your exact specifications – or if that's too much work, pick one of their delicious menu options, like #6, with grilled chicken, red onion, cilantro, mozzarella, gorgonzola, and bbq sauce.  If your stomach rebels at the thought of that much dairy, we understand.  Try the Food Court instead, where you'll find a nice and easy Johnny Rockets.
Mandarin Oriental – Mozen Bistro
Mozen Bistro at Mandarin Oriental has the dream buffet for late night sufferees – an all you can eat American breakfast buffet.  Scrambled eggs, pastries, french toast,  seasonal fruit, as well as juice and coffee or tea.  Or, you can go with a "complete plate," from traditional classic American breakfasts to a Japanese Bento, which comes with salmon, sushi rice, tofu, ginger, and omelette with spinach and mushrooms, miso soup, pickles, fruit, and coffee or tea.  It's unique, but might be just what the doctor ordered. Warning, however, the place is swanky, so your hoodie and yoga pants (or last night's clothes) probably won't fly.
Cosmopolitan – The Henry
Open 24/7, this casual, but still sophisticated eatery is excellent for the post-drunk.  Or the still drunk.  Or the not yet drunk! Whatever time you're feeling hungry, The Henry at The Cosmo is open.  From scrambles to traditional egg breakfasts to donuts to pancakes, they have everything.  Be aware, the menu changes slightly from breakfast to brunch to lunch, but no matter what they're serving, you'll find something on the extensive menu to cure your hangover. Or, for a much lighter pick me up, try the Juice Standard, a juice bar in the Cosmo that features a myriad of combos to help cleanse your system.
Planet Hollywood – The Spice Market Buffet
They say variety is the spice of life, which hits the nail on the head and other cliches at The Spice Market Buffet. Open early for breakfast on weekdays, and with brunch offerings on weekends, you really can't go wrong. They have dishes from around the world, so you can stick to your corner of favorites or branch out into the unknown. American, Italian, Middle Eastern, Asian, you name it, Spice Market has it all.  Though don't go too crazy – post-drunk stomachs can be fickle.
Vdara – Vice Versa
If you're looking for something a little lighter, and a little classier than the usual hangover joint, try Vice Versa.  They boast a "chic and whimsical breakfast bar experience" on Fridays, Saturdays, and Sundays from 9am – 12pm with small breakfast plates and cocktails. Choose from classics like French Toast (sticks) to more hipster Artisan Avocado Toast with a fried egg and bacon.
Paris / Bally's – La Creperie & Cafe Belle Madeleine
No one wants to dress up after a night out to go somewhere fancy.  At least, not many do. At Paris, there are tons of options for an elegant breakfast, but if you're seeking something more casual, try Cafe Belle Madeleine, or La Creperie.  Both offer dessert for breakfast type sweets, such as, well, crepes, croissants, tarts, and more.  You can also do more savory options, if you're stomach's not sure about sugar yet.
Bellagio – Cafe Bellagio
Cafe Bellagio has a list of delicious morning cocktails that could be just what you need.  From traditional Bellinis and Bloody Marys to more unique options like the "Bellagio Cocktail" and "Sunsplash," they pair nicely with huevos rancheros, a maryland crab cake benedict, or an applewood-smoked bacon omelette. They also offer pancakes, french toast, bananas foster waffle, and skillets.
The Aria – The Buffet
With so many options to choose from at a pretty great deal, there's no sense going anywhere but The Buffet at the Aria. Open for breakfast, brunch, lunch, and dinner, the Buffet will be open no matter what time you wake up… if you sleep at all. And for $20, you can add bottomless mimosas, rum drinks, bloody marys, and more at any time of day.  Skip the hangover entirely, and go straight from one party to the next.
The Cromwell –  Eat Well
Great for a late night, early morning, or mid afternoon snack, Eat Well at The Cromwell is open 24/7 and has a variety of foods from pizza to sandwiches. You can also get a salad, and even a signature chili cheese dog!  The prices are reasonable, and they serve Starbucks coffee.  You really can't go wrong.
Flamingo – Carlos n Charlie's & Cafe to Go
For sit down meals, we recommend Carlos n Charlie's.  They have a substantial Mexican-themed breakfast menu with huevos rancheros, chilaquiles, as well as enchiladas, and more.  Or, you can go more classic with pancakes, waffles, etc. On the other hand, if you're dying and just want to crawl back into bed, try Cafe to Go.  They're open late and early, and have a variety of sweets, breakfast sandwiches, pizza, breakfast burritos, and more.
Caesars –  Bacchanal Buffet
If you're okay splurging on a hangover meal, then Bacchanal is where it's at.  Named one of the best buffets in the country, Bacchanal is a delight from start to finish with red velvet pancakes, sliders, made to order crepes, and more.  They have tons of international fare and a huge sweets station. Go big or go home, as they say.
LINQ – Guy Fieri's Kitchen and Bar
At Guy Fieri's Kitchen and Bar, the Hangover Bloody Mary is your poison. You can build your own with your choice of garnishes, from shrimp to olives, and adjust the heat/spicy level to your desire.  Also try Guy's Big Bite Burrito with scrambled eggs, chorizo, potatoes, and more, or a maple bacon french toast with house baked brioche.  There are tons of options to soak up the alcohol and make you feel more human.
The Mirage – Carnegie Deli
Based on the famous Carnegie Deli in New York, the one at The Mirage has all the same delicious fixins to help you clear your head. From mountain-high sandwiches piled with pastrami to rich potato salad to delicious homemade chicken soup, there's something here for every taste bud.
Harrah's – Toby Keith's I Love This Bar and Grill
If you like country music, Toby Keith's I Love this Bar and Grill has some amazing options for hangover fare.  They have Fried Mac and Cheese Balls, a variety of massive burgers, fries, and even a deep fried twinkie. So many greasy options, so little time.
The Venetian/Palazzo – Carlo's Bakery
If heavy, savory foods aren't  your cup of tea after your bottle(s) of beer, try Carlo's Bakery at The Venetian.  Full of delicious sweets and confections from cannolis to fruit tarts, Carlo's pastries come in a range from the uber sweet to the simply flavorful.  So get a delicious cup of coffee, and slowly nurse your hangover back into oblivion.  With sugar.
Treasure Island  – The Coffee Shop
Open 24/7, The Coffee Shop at Treasure Island is a great place for hangover food no matter what time of day.  With comfort food and American classics, they have plenty of options to make you feel less like the undead.  Additionally, you can even take your meal on the balcony, where some warm air and sunshine will do you a world of good.
The Wynn – The Buffet
Finally, most options at the Wynn, even the casual ones, are pretty classy, and very bright.  Not always best for a hangover. So if you're going to indulge here, we say go for gold and hit up The Buffet. With all the options available, everyone will be sure to find something to sooth their angry stomachs. And for the vegan drinkers, there are plenty of vegan and vegetarian options! Also, they're open for breakfast, lunch, and dinner, as well as brunch on the weekends.